'Pawdemic'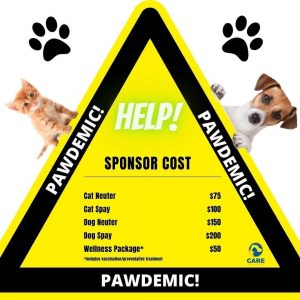 As you can see see by our social media, we here at C.A.R.E. have been busy busy busy catching up on all these spays and neuters after lockdown.  We are making our way through our long list but we are desperate for your support.  We are experiencing a full pawdemic!  Just one surgery can cost us over $200 and with daily surgeries this adds up very quickly.  Take a look at the sponsoring opportunities, sponsor an animal in need and we will tag you in a post to show you where your donation has gone. To donate, click the image.
'A Home to Call My Own' – Community Dog House Program
"The Home to call my Own" Project, came about after the realisation that several of our community pups that had been fixed had no real shelter from the elements in their yards.   We build our dog houses through a variety of repurposed materials which offer ventilation as well as protection for the pups.   If you would like to help us build a dog house, please get in touch, or if you would like to sponsor the cost for the materials for one (CI$50), then please click the image.
'Heart Guardian' Program 
The 'Heart Guardian' program came about from the realisation that a lot of our community dogs are contracting heartworm disease (see our Pet Tips Page to read the information sheet on the disease).   The most widely available preventative available on Island is Heartgard.  This tasty, chewy tablet administered every month will prevent the development of Heartworm in your pet's bloodstream even if they are bitten by an infected mosquito.  If you would like to sponsor the heartguard monthly treatment for a community dog for a whole year (CI$100), then please click the image.